Leuchtturmprojekt:
Canal push boat ELEKTRA
The realisation of the canal barge "ELEKTRA" by BEHALA (Berliner Hafen- und Lagerhausgesellschaft mbH) and TU Berling (Department of Design and Operation of Maritime Systems (Prof. Gerd Holbach) focused on the climate policy goals of the Federal Republic of Germany. The aim was to show that it is possible to make inland navigation CO2-neutral, especially in conurbations.
Under the project management of the TU Berlin, the companies BEHALA (port and logistics service provider), Schiffswerft Herrmann Barthel, BALLARD Power Systems (fuel cells), Argo-Anleg (hydrogen supply system), Schiffsselektronik Rostock, EST-Floattech (accumulators) and Imperial logistics (shipping company) were involved in the development and construction of the ELEKTRA as partners.
In doing so, the ELEKTRA takes on a model function as an emission-free ship with regard to ecological requirements, especially within sensitive regions (e.g. conurbations such as Berlin/Brandenburg, Hamburg, Rhine-Ruhr).
Hereby, the ELEKTRA takes on a model function as an emission-free ship with regard to ecological requirements, especially within sensitive regions (e.g. conurbations such as Berlin/Brandenburg, Hamburg, Rhine-Ruhr region).
Parallel to the construction and testing of the ELEKTRA, accompanying infrastructural measures were carried out in the area of electricity and hydrogen supply (logistics) in the ELEKTRA's navigation area for inland navigation.
Mit einem Gesamtprojektvolumen von ca. 14,6 Mio. Euro wurde das Projekt durch das Bundesministerium für Verkehr und digitale Infrastruktur (BMVI) mit ca. 9,1 Mio. Euro gefördert und vom Projektträger Jülich (PTJ) und der Nationalen Organisation für Wasserstoff- und Brennstoffzellentechnologie (NOW) betreut und koordiniert.
Bei der ELEKTRA ging es nicht nur um die Energiebereitstellung für den Schiffsantrieb und das Schieben von Schubverbänden, sondern auch um die Energie für die Besatzung, die an Bord wohnt, kocht und wäscht. Weiterhin muss Energie für die Temperierung der Räume und des Steuerhauses bereitgestellt werden. Auch die Akkumulatoren benötigen eine bestimmte "Wohlfühltemperatur" für einen effizienten Betrieb und eine lange Lebensdauer. All das muss bei begrenzter mitgeführter Energiemenge und ohne Reichweitenverlust funktionieren.
To ensure this, for example, the waste heat from the fuel cells is used through consistent water cooling and the rooms are heated via a brine heat pump. It is an advantage that the ship always has water available with temperatures above 0° C under the keel.
With 750 kg of usable gaseous hydrogen at a pressure of 500 bar on board and a battery capacity of approx. 2,500 kilowatt hours, the ship has a range of approx. 400 kilometres in a pushed convoy with the loaded heavy-lift lighter URSUS. Therefore, in the trade lanes from Berlin towards the Rhine/Ruhr, Hamburg and Szczecin, only one additional shore station is needed to supply the ELEKTRA with hydrogen and electricity in addition to the Westhafen en route. In total, convoys of up to 150 m in length can be driven.
Sowohl im Berliner Westhafen als auch im Hafen Lüneburg werden die ersten Stationen für den Wechsel der Wasserstofftanks und elektrische Ladestationen in der benötigten Leistungsklasse von 500 Kilowatt in 2023 in Betrieb genommen. 
Mit dem Industrie- und Gewerbepark Mittelelbe/H2 Green Power & Logistics GmbH hat die TU Berlin einen Liefervertrag zur Befüllung und zum Transport der von Argo-Anleg entwickelten Tanksysteme (Multiple Energy Gas Container – MEGC) mit grünem Wasserstoff bis zum Ende der Projektlaufzeit Ende 2024 abgeschlossen.
On 16 May 2022, the ELEKTRA was christened in Berlin's Westhafen by the Mayor of Berlin Franziska Giffey. After almost two years of construction at the Germann Barthel GmbH shipyard in Derben and the transfer to Berlin's Westhafen, this marked the beginning of the long-term testing of this unique, innovative and emission-free push boat.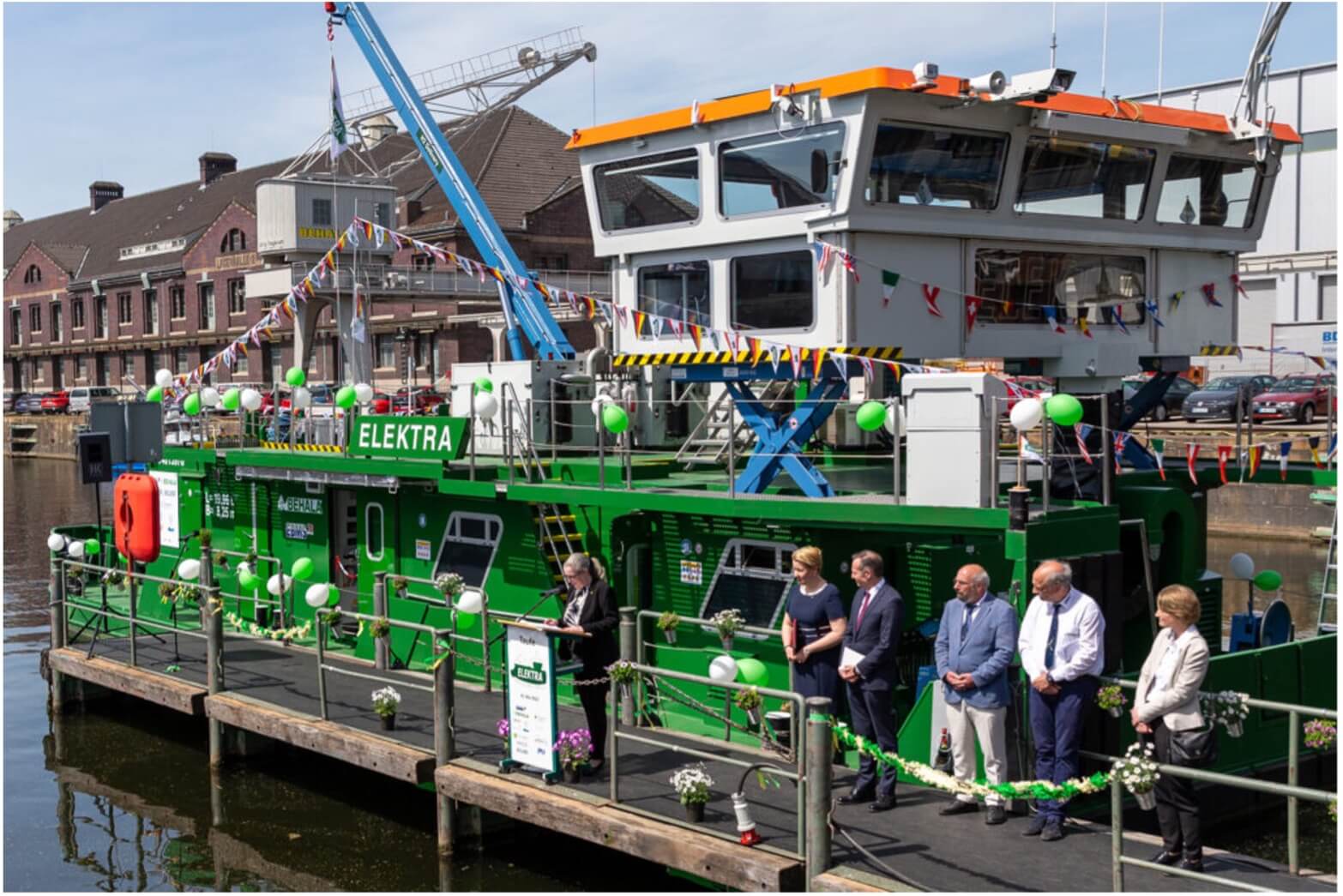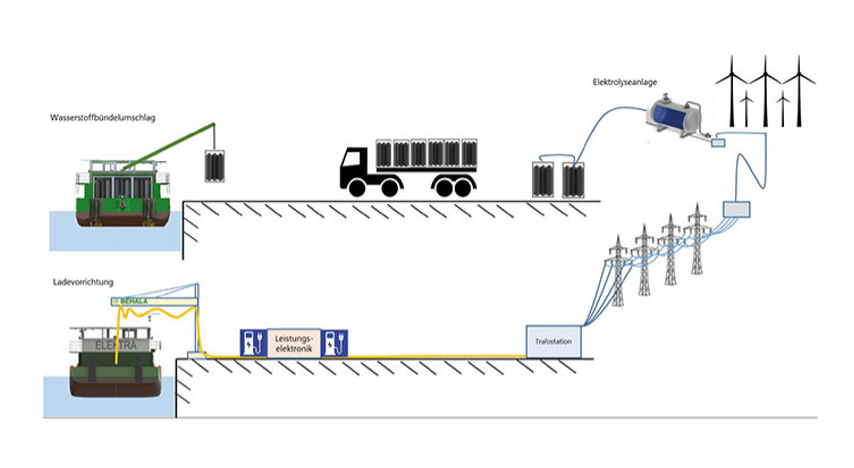 Swap container H2 tank system (MEGCs)
The swap container tank systems (MEGC) can be exchanged with an on-board crane and the power connection is made via a loading gallows where the cables are routed on shore. This makes it very easy for the ship's crew to handle the cables, which are as thick as arms, and the ship is connected to the charging station in a short time and the pier is free of cables.
To make this possible, the ship has to be equipped with a crane.
To be able to provide the ELEKTRA's necessary electrical propulsion power of 420 kW, 3 hydrogen-powered fuel cells are provided, each with an output of 100 kW. Furthermore, the push boat is equipped with accumulators with a total storage capacity of 1,325 kWh, whereby 1,025 kWh are provided for the propulsion and 300 kWh for the on-board network. Furthermore, a photovoltaic system with a maximum output of 2.7 kWp is installed on the driver's cab roof of the ELEKTRA.