From 17 to 21 April, Argo-Anleg GmbH presented itself at the Hannover Messe. In the "Hydrogen + Fuel Cells Europe" area, numerous companies and institutes showed innovations and best practices from the broad field of hydrogen technology. On the very first day of the fair, Managing Director Jan Andreas signed a cooperation agreement with Hydrogen Moves, represented by owner Silke Frank. Thus, the very long cooperation, which has existed between the two for over 2 decades, was now "officially sealed". This was a successful start, which seamlessly led to visits from numerous foreign delegations. Among others, the team welcomed visits from India, Finland, Canada, the USA and China.
At the joint stand of the State of Hesse, Argo-Anleg showed, among other things, a technology comparison between a 5KW fuel cell (PEM) and a 10KW "hydrogen burner" of a friendly company from Passau, the company EVS Hydrogen GmbH. According to the owner, Walter Seidl, this hydrogen engine is more or less a "multi-fuel engine" that burns various gases such as methane, hydrogen and even paraffin. "The hydrogen that is burned here does not have to have Automotive 5.0 quality, and can be used in relatively "harsh environmental conditions". He sees a lot of potential for this, especially in the construction machinery sector (excavators, vibratory plates…).
The 5KW fuel cell shown by Argo-Anleg is the "smallest" in the portfolio (among others 35/200/400KW) and also met with great interest. Applications include microgrids, disaster control, maritime applications, building services and many more. In addition, valve technology -whose development roots go back to 2001- was shown, while a well-known OEM promoted it as "his latest innovation". Unpleasant excitements that do not have to be.
Further TPRD's like a Cryo-TPRD for the aviation sector. A first valve housing additively manufactured by rosswag-engineering from the funded ALuScal project (news to follow soon).
Argo-Controller, a proprietary infrared interface (IR) for refuelling according to SAE protocol at HRS (hydrogen refuelling stations).
Argo-Anleg Gas Handling Unit (GHU), which is used as a standard product in the H2 refuelling systems integrated by Argo-Anleg, such as the HDV (40to truck), the PH2P truck – of the cooperation partner, company Paul Nutzfahrzeuge, the snow groomer of the company PRINOTH), and now in the MEGCs and tank containers. The exhibited technology has been daily work for Argo-Anleg for a long time with a lot of experience. The exhibits showed only a small proportion of the products that the Wesel-based company has already developed to series maturity. In addition to the hands-on technology, Jan Andreas (Managing Director) and Dirk Fischer (Sales Manager) provided information with a detailed on-screen presentation about many other hydrogen applications of the company that are already in use today.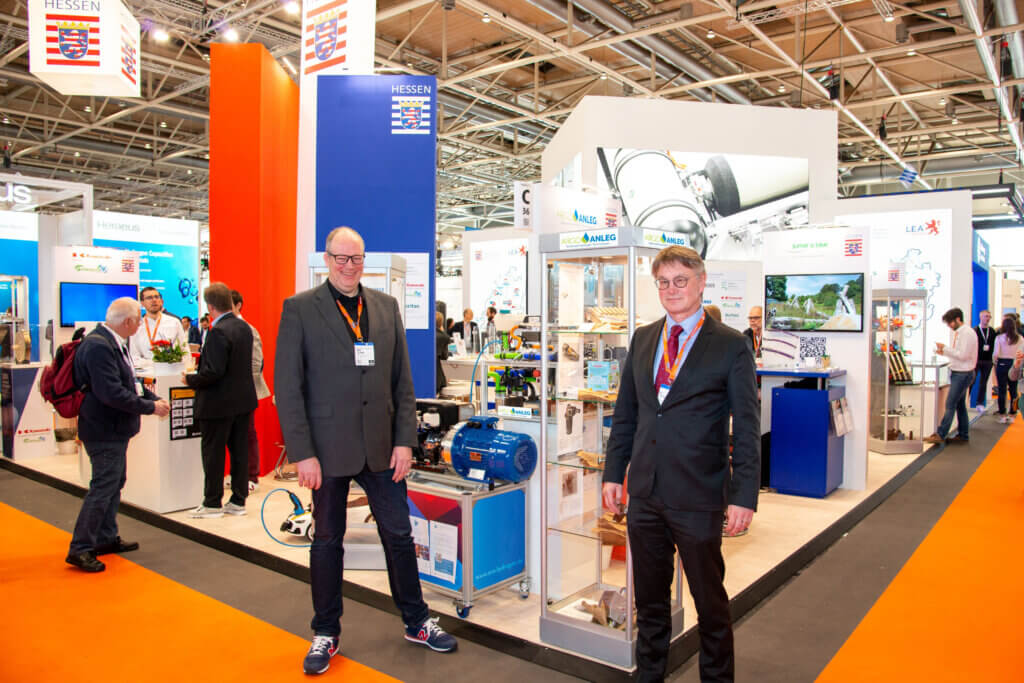 A special focus this year was on the challenges of decarbonising the logistics industry. Here, many trade fair visitors were particularly interested in the "Multiple Energy Gas Container" (MEGC), which are used as exchangeable tank systems for ships. "These tank containers offer three major advantages in application," explains Jan Andreas, "We can use them to convert old ships and fleets to zero-emission operation, equip new ships, and we create the possibility of rapid refuelling by simply changing the container systems." In addition to the tank containers, Argo-Anleg also supplies mobile or stationary refuelling stations, making it one of the few "full solutions providers" in the industry. This H2 technology has already proven itself in a lighthouse project with the canal push boat "Elektra", on which the MEGCs, also developed by Argo-Anleg, were tested. And the ideas and solutions from Wesel also play a central role in the two EU projects "Seanergy" and "Synergetics".
In addition to the presentation of current products and projects, the annual industry meeting in Hanover was of course also about intensive networking with partner companies – and the acquisition of new customers. "All in all, we are very satisfied with the Hanover Fair," Dirk Fischer summed up, "We were able to deepen existing relationships and make numerous new contacts. The week was exhausting – but it was worth it." The sales manager of Argo-Anleg GmbH literally put his back into it: on the stand of WIKA, which provided an area for the partner HYFINDR, he physically ensured the production of hydrogen. On the rowing machine provided, Dirk Fischer produced 71.9 mg of the purest green hydrogen in 60 seconds. His insight: This is a sensible way to do something against "belly fat" ;-). To put his achievement into perspective: A former German Olympic rowing champion set the benchmark on site at 300mg! A thoroughly successful idea to give visitors an understanding of the sometimes "sweaty" production of hydrogen and the rapidly growing B2B platform Hyfindr!
But there were also – and this was NEW – some talks with small businesses and "end users". There is obviously a great deal of uncertainty about heating, the use of PV in private households and small businesses, storage options, etc. Here, Argo-Anleg was able to intervene with expert knowledge and trainers for the specialised trade. However, it has been shown time and again that there is still a lot of educational work to be done. But education cannot start early enough… See the booklet from the PIXI knowledge series of the Cornelsen publishing house, jointly produced within the HyStarter project phase by the partners district of Marburg-Biedenkopf / Chemikum Marburg / climate protection . The PIXIs were gladly accepted giveaways with important expert knowledge at the Hessen stand. Both young and old were given presents and delighted. Thanks to Dirk Fischer, Dr. Habeck, Federal Minister for Economic Affairs and Climate Protection, can now call an H2 PIXI his own.
Picture gallery Hannover-Messe